STARDREAMS has two programs that teach your child the importance of fitness. They learn body awareness, control, timing, coordination and the language of movement. STARDREAMS promotes
self-confidence and discipline. We also encourage participation and interaction among the students, thus developing good social skills that carry over to all aspects of the arts, as well as other fields.
The programs offer a head start in your child's future. The child learns by seeing, doing, and experimenting. With these abilities your child will be able to advance into any field; be it business, sports, politics, or the arts. STARDREAMS lays a foundation of mental and physical strength that will someday touch the sky.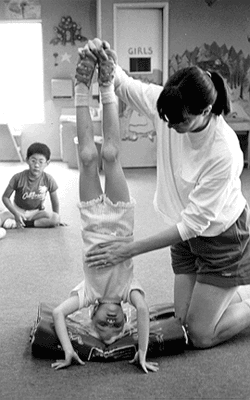 Children step eagerly into the world of dance and gymnastics. They are at an age where their minds are open and ready to learn. The early years of a child's development are the most important. They learn quickly and develop skills easily. They are unaware of limitations and the fear of failure. They are ripe for learning. In the classroom with their peers, they experience total freedom of movement. It's a chance for them to burn off excess energy. STARDREAMS creates an atmosphere of learning while having fun through it's classes, newsletter and performance.
We teach the child to communicate with the body. They develop their own creativity by learning another way to express themselves. In your child we seek both the performer and composer, the interpreter and creator. Students will explore body parts through isolations, stretches, bends, twists, swings, and sways. They will turn their favorite activities, such as running, leaping, hopping, skipping, and sliding into expression and entertainment.